Spoiler alert, this is not a review of the latest installment of the Planet of The Apes saga. I know...sigh
Instead, this is about an iconic brand that began "Nowhere" and is now ubiquitous in our culture, making it, and the zeitgeist its innovations inspire, hard to miss!
It's about a brand that specializes in lifestyle and street wear clothing, yet, its influence has been pervasive throughout ALL segments of hip hop and contemporary Japanese fashion since the 90s. The name, and original logo, of the 24-year-old company were inspired by the original 1968 film "Planet of The Apes" starring the "damned ugly" Charlton Heston; its inspiration is reflected throughout the apparel line, which features our simian cousins on many of its products! This brand has been and continues to be a catalyst in the initiation of major shifts in music, movies, art and, most reputably, fashion with endorsers from the late Robin Williams to Jaden Smith.
Yes, if you havent figured it out yet, were talking about the exalted brand--BAPE!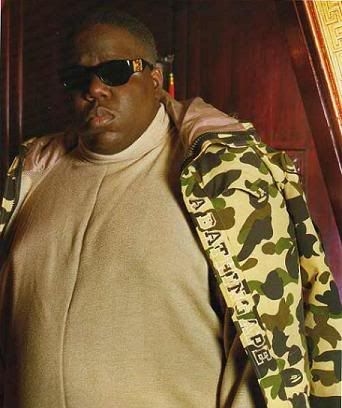 "..and if you don't know, now you know.."
BAPE is a Japanese clothing brand that was Co-founded by Nigo--a Japanese fashion designer, DJ/record producer, and entrepreneur. Nigo opened his first clothing store--"Nowhere"-- in April of 1993 along with his business partner, Jun Takahashi, in Ura-Harajuku, a progressive neighborhood in Tokyo. I sincerely doubt this is the first time you've heard the name "Harajuku". There's a super famous, self-proclaimed Barbie who adopted the namesake, "Harajuku Barbie", in an effort to describe her own style and life philosophy on self-expression, pushing fashion boundaries and simply being eccentric.

...but I digress.
Shortly thereafter, Nigo made the decision to start his own brand and called it, BAPE, which is a reference to "A Bathing Ape in Lukewarm Water"--a testimonial to Japanese culture, where taking hot baths, daily, is commonplace.
Nigo immediately started making 50 T-shirts a week, giving half to friends and celebrities and selling the other half to customers. As a result, the brand rapidly gained notoriety in Japan and even around the world with individuals such as the late Biggie Smalls (pictured above rocking a BAPE 1st camo jacket in 1996).
While the fashion house was already very popular in Tokyo and some cities in the west, it would soon be catapulted into the exosphere when Nigo met Pharell in 2003. The two would get together and create, not just one, but TWO earth shattering brands known to the world as The Billionaire Boys Club and Ice cream.

It was during this time that the Hip Hop culture really bought into the design of BAPE apparel; it also helped that, now, BAPE was associated with a highly prominent and contemporary music artist/producer--Pharell--thus establishing itself as a mainstream entity within street fashion in the west and around the world.
Jump to 2007 and Nigo was at it again, eager to collaborate with yet another intensely passionate and creative mind! It was during this time that a young artist from Chicago's south burbs rapidly ascended the ranks of the music industry, though he also "had a passion for flashin'" (and fashion, too!) and was keen on working with Nigo to design his first shoe ever--the "College Dropout" BAPE Bapesta!

Available on Threadest
BAPE continued to collaborate with many other famous brands such as G-shock, Disney, Nintendo, Pepsi, Supreme and Stussy to name a few, but also with individual artists, including but not limited to: A$AP Rocky, Kid Cudi, Lil Wayne, Chris Brown and Big Sean.
Photo courtesy of ballerstatus.com Photo courtesy of BAPE.com Photo courtesy of Pintrest
The brand's staple pieces are the 1st Camo jacket and the Shark full-zip hoodie which were widely popular almost instantly and are commonly seen being worn by celebrities and other trend setters. The BAPE camouflage is also widely recognized as being brought into convention by this very unconventional brand!

Courtesy of Shopify.com Courtesy of Shopify.com
BAPE also typifies some of their apparel with acronyms such as WGM (World Gone Mad), PONR (Point of No Return), NFS (Nigo's Favorite Shop) and ASNKA (Ape Shall Never Kill Ape). These alphabet motifs are an excellent way to distinguish various BAPE collections and styles, but also double as the slogans for the brand itself.

Photo courtesy of pintrest.com Photo courtesy of pintrest.com Photo courtesy of grails.com
In 2011 Nigo sold BAPE to a fashion conglomerate based in Hong Kong, but he remained on as the Creative Director until 2013 when he chose to resign from his role as the Creative Director of BAPE, stating that he was more occupied thinking about what he would do next and what other possibilities there were. He added that BAPE was no longer just his creation and he wanted to give others the opportunity to take the lead and move in any creative direction they choose. However, even with Nigo no longer at the helm, BAPE continued to collaborate with many other artists/companies and produce amazing products, unabated!
The brand continued to feed its insatiable appetite for fashion and innovation by establishing several diffusion brands such as "A Bathing Ape", "Aape", "Mr. Bathing Ape" and "BAPE Kids". These collections were able to reach an even wider target audience by implementing different styles and price points, making their pieces appealing to even more consumers and, of course, by making products more affordable! Many agree that this massive expansion of the BAPE brand immortalized its place in the fashion world!

Mr. Bathing Ape Collection, photo courtesy of highsnobiety.com
Aape Collection, photo courtesy of asos-media.com
BAPE Kids Collection, photo courtesy of wordpress.com
So whats new for BAPE?
Earlier this month the fashion house released its Fall/Winter men's and women's 2017 collections! This is no surprise given that the brand is always charging ahead, with eyes and minds focused on the future! The collection partly consists of bomber jackets, down coats, panel caps and even track suits! One of the collection's most prized pieces was said to be the women's burgundy and black varsity jacket.

Photo courtesy of thesnobette.com
The jacket features the Bathing Ape, of course, with red and yellow stars accentuating the deep burgundy base colorway. The design is sleek, yet the perfect apparel piece to keep warm on a cool day in the fall.
BAPE contiues to provide its audience with such a diverse array of pieces, its evident that there is really no ceiling for what this company can accomplish. Whats even more exciting is that this amazing collection will SOON be available on Threadest, making it easier--and frankly more enjoyable-- to acquire apparel from this brand's must have fall/winter items!
When will you start revamping your fall and winter closet? What BAPE gear are you looking to buy? What BAPE gear do you already have? Post your BAPE apparel on Threadest and stack those Threadsetter points!